Check out our recommended readings
The Body's Role in Addictions by Jean Armour, RN
The Body's Role in Addictions explains body processes in a way that people can easily understand and use. Simply telling someone that using a substance is not good for them and expecting a positive response has not worked well. When people understand what is happening in their body, what may have set them up to use in the first place, and how to reclaim their personal power, they are more successful in achieving their goals of sobriety. 
How To Quit Drinking For Good and Feel Good : The NEW Alcoholism Story by Suka Chapel-Horst, RN,PhD
Much of what we thought we knew about alcoholism and substance abuse is now obsolete. Neuroscience and biochemistry have found the underlying cause of all addictions and thirty-plus years of experience have given us the recovery method that is getting up to 85% recovery rates. This book contains written tests to determine one's underlying biochemical imbalances and a step-by-step guide for gaining and maintaining lasting recovery without the symptoms that lead to relapse.
Leaving Drug and Alcohol Addictions for Good: How Biochemical Restoration Radically Improves Your Chances of Recovery by Joseph Eisele, CACIII
In Leaving Drug and Alcohol Addictions for Good, readers experience the frightening ride on what Joe calls "the addiction train." Joe's story is layered with Sharon's, whose son became caught in the devastating, often deadly trajectory of addiction while Joe and Sharon were working on this book. Whether you are coping with addiction yourself or trying to help someone else get off the addiction train, you'll find a deep understanding and empathy in Joe's story, and fresh hope in how you truly can leave drug and alcohol addictions for good.
End Your Addiction Now: The Proven Nutritional Supplement Program That Can Set You Free by Charles Gant, MD, Greg Lewis, PhD
Whether it involves drugs, alcohol, smoking, or food, addiction is an overwhelming and destructive force. While many rehabilitation programs are available, the truth is that too many people return to their old habits. Why? End Your Addiction Now not only explores the biochemical factors that are the real cause of this problem, but offers proven advice on how to break addictions once and for all.
End Your Addiction Now: The Proven Nutritional Supplement Program That Can Set You Free by Joan Mathews Larson, Ph. D.
Whether it involves drugs, alcohol, smoking, or food, addiction is an overwhelming and destructive force. While many rehabilitation programs are available, the truth is that too many people return to their old habits. Why? End Your Addiction Now not only explores the biochemical factors that are the real cause of this problem, but offers proven advice on how to break addictions once and for all.
The Relationship of Stress to Hypoglycemia and Alcoholism with Diets by Kathryn Carron Poulos, C. Jean & Donald Stoddard 
The Role of Stress and the HPA Axis in Chronic Disease Management Paperback – January 1, 2015 by Thomas G. Guilliams Ph.D.
Adrenal Fatigue (The 21st-Century Stress Syndrome) 1st Edition by James L. Wilson 
This is an incredibly informative and reader-friendly book about a common debilitating medical condition that goes largely undiagnosed and untreated. ADRENAL FATIGUE: The 21st Century Stress Syndrome is a very empowering work cram-packed with vital information about a condition that very likely affects millions of people.
Brain Allergies: The Psychonutrient and Magnetic Connections Paperback
Is This Your Child's World Hardcover – October 2, 1996
explains how hidden toxins in classrooms and at home pose a serious threat to children, putting them at risk physically, mentally, and psychologically, and shows how to keep them from harm.
AMINO ACIDS AND OTHER NUTRIENT THERAPIES:
Fuel Your Brain, Not Your Anxiety: Stop the Cycle of Worry, Fatigue, and Sugar Cravings with Simple Protein-Rich Foods
In this practical, feel-better-now workbook, you'll learn how to make healthier food choices, and discover how protein and sugar affect your emotions and energy on any given day. You'll also find convenient meal planning and tracking tools to help you monitor your progress, and a wealth of easy tips and doable ways to improve your diet, overcome fatigue, and restore your vitality and mental clarity.
Everyone's heard the adage, "You are what you eat." When it comes to anxiety, research now shows that nutritional factors often underlie the anxious thoughts and feelings we have every day. With this life-changing workbook, you'll learn to use brain-boosting foods to stay one step ahead of anxiety.
Rhythms of Recovery: Trauma, Nature and the Body by Leslie Korn, PhD
The Mood Cure: The 4-Step Program to Take Charge of Your Emotions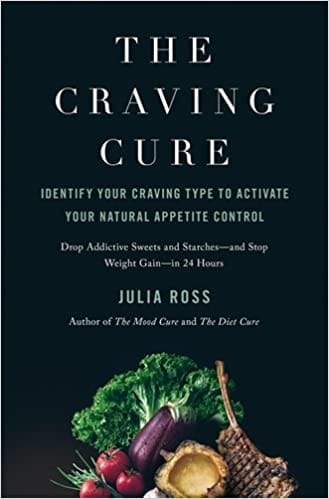 The Craving Cure: Identify Your Craving Type to Activate Your Natural Appetite Control
The Way Up from Down Paperback – November 1, 1994 by 
Offers a safe and effective nutritional treatment for low moods and depression and provides a self-rating scale to identify depression through the observation of physical and psychological symptoms
A Promise of Hope: A Woman with Bipolar Disorder and the Miraculous Treatment That Cured Her  by Autumn Stringham
Some children inherit the family nose. Autumn Stringam and her brother Joseph inherited bipolar disorder, a severe mental illness that led to the suicides of their mother and grandfather. Autumn was in a psychiatric hospital on suicide watch by the time she was 22. Joseph, at 15, was prone to violent episodes so terrifying that his family feared for their lives. But after Autumn and Joseph began taking a nutritional supplement developed by their father – and based, incredibly, on a formula given to aggressive hogs – their symptoms disappeared, and today they both lead normal, productive lives.
A Promise of Hope is the story of Autumn's flight from madness to wellness and an astonishing scientific account of a treatment that has also helped thousands of others. It is a powerful call for a new understanding of mental illness, its causes and its treatments.
DIGESTION AND MENTAL HEALTH
Digestive Wellness: Strengthen the Immune System and Prevent Disease Through Healthy Digestion, Fifth Edition by 
Fewer antacids and less bloating aren't the only benefits of good digestion. When your digestive system is healthy and balanced, you sleep better, have more energy, think more clearly, experience less pain, and combat disease more effectively.
Digestive Health shows how everything from migraines to skin disease to arthritis are connected to your digestive system. And now, this go-to guide has been updated with critical new research and developments
DIGESTION AND MENTAL HEALTH
Gut and Psychology Syndrome: Natural Treatment for Autism, Dyspraxia, A.D.D., Dyslexia, A.D.H.D., Depression, Schizophrenia Revised & enlarged Edition by 
Dr. Natasha Campbell-McBride set up The Cambridge Nutrition Clinic in 1998. As a parent of a child diagnosed with learning disabilities, she is acutely aware of the difficulties facing other parents like her, and she has devoted much of her time to helping these families. She realized that nutrition played a critical role in helping children and adults to overcome their disabilities, and has pioneered the use of probiotics in this field. Her willingness to share her knowledge has resulted in her contributing to many publications, as well as presenting at numerous seminars and conferences on the subjects of learning disabilities and digestive disorders. 
The Second Brain: A Groundbreaking New Understanding Of Nervous Disorders Of The Stomach And Intestine by 
Dr. Michael Gershon has devoted his career to understanding the human bowel (the stomach, esophagus, small intestine, and colon). His thirty years of research have led to an extraordinary rediscovery: nerve cells in the gut that act as a brain. This "second brain" can control our gut all by itself. Our two brains—the one in our head and the one in our bowel—must cooperate. If they do not, then there is chaos in the gut and misery in the head—everything from "butterflies" to cramps, from diarrhea to constipation. Dr. Gershon's work has led to radical new understandings about a wide range of gastrointestinal problems including gastroenteritis, nervous stomach, and irritable bowel syndrome.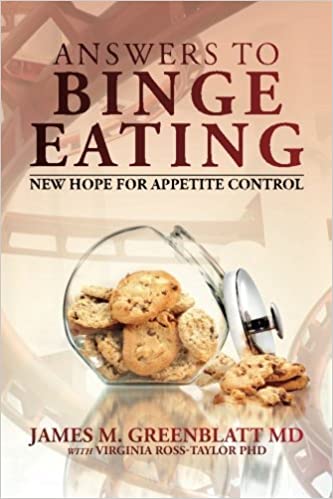 Answers to Binge Eating: New Hope for Appetite Control Paperback – April 24, 2014
Every year an estimated seventy-two million Americans diet, financing a weight-loss industry worth approximately fifty-five billion dollars. Despite the vast efforts put into weight loss, two-thirds of American adults remain either obese or overweight. Clearly dieting doesn't work, and failed attempts to lose weight encourage the development of disordered eating behavior. Many of those struggling with a disordered appetite compare it to being trapped on a roller-coaster ride. The feeling of the roller-coaster ride of restricting, bingeing, and chronic self-blame is never ending. There is the stretch of time when the car inches upward, when you feel a sense of progress. Then, without warning, you spiral downward in a great rush, having lost all sense of control. You crave, you eat, you binge.
The Diet Cure: The 8-Step Program to Rebalance Your Body Chemistry and End Food Cravings, Weight Gain, and Mood Swings–Naturally Paperback – May 2, 2012
For the more than 160 million overweight Americans, dieting is a failure. Based on more than twenty years of proven clinical results, The Diet Cure's revolutionary approach curbs food cravings and restores the brain's mood and appetite chemistry in twenty-four hours. Beginning with her 8-Step Quick Symptom Questionnaire, celebrated nutritional psychotherapist Julia Ross helps readers identify their unique underlying biochemical imbalances and provides targeted strategies to correct those imbalances using nutritional supplements to jump-start the dietary overhaul. Readers then create their own safe, easy-to-follow plan to end low-calorie dieting and food obsessions for good.
Anatomy of a Food Addiction: The Brain Chemistry of Overeating 3rd Edition, Kindle Edition
If you have struggled with compulsive eating, dieting, and the guilt and conflict they bring, your life will be changed by this important, life-affirming, and astonishingly wise book.
Anne Katherine, a Certified Eating Disorders Therapist and former compulsive eater, explains the chemical reactions in the brain that work in conjunction with lifelong emotional conflicts to make food—particularly sugar and refined carbohydrates—such a comfort that it's almost like a drug.
Once you realize that your binge eating is a physical disease that can be treated, you can use the book's self-tests, exercises, the examination of family issues, and complete a recovery program for newfound understanding and confidence.
ORTHOMOLECULAR PSYCHIATRY
Healing the New Childhood Epidemics: Autism, ADHD, Asthma, and Allergies: The Groundbreaking Program for the 4-A Disorders Paperback – April 29, 2008
Doctors have generally overlooked the connections among the 4-A disorders. For years the medical establishment has considered autism medically untreatable and utterly incurable, and has limited ADHD treatment mainly to symptom suppression. Dr. Kenneth Bock, a leading medical innovator, along with his colleagues, have discovered a solution that goes to the root of the problem. They have found that modern toxins, nutritional deficiencies, metabolic imbalances, genetic vulnerabilities, and assaults on the immune and gastrointestinal systems trigger most of the symptoms of the 4-A disorders, resulting in frequent misdiagnosis and untold mysteries.
ORTHOMOLECULAR PSYCHIATRY
The End of Alzheimer's: The First Program to Prevent and Reverse Cognitive Decline Hardcover – Illustrated, August 22, 2017
In this paradigm shifting book, Dale Bredesen, MD, offers real hope to anyone looking to prevent and even reverse Alzheimer's Disease and cognitive decline.  Revealing that AD is not one condition, as it is currently treated, but three, The End of Alzheimer's outlines 36 metabolic factors (micronutrients, hormone levels, sleep) that can trigger "downsizing" in the brain. The protocol shows us how to rebalance these factors using lifestyle modifications like taking B12, eliminating gluten, or improving oral hygiene.
Add & ADHD: Complementary/Alternative Medicine (CAM) Solutions (Paperback) – Common 
A science based natural approach without dangerous addictive drugs.
The UltraMind Solution: Fix Your Broken Brain by Healing Your Body First Audio CD – Audiobook, December 30, 2008
The UltraMind Solution, Dr. Mark Hyman explains that to fix your broken brain, you must heal your body first. Through his simple six-week plan, Dr. Hyman shows us how to correct imbalances caused by nutritional deficiencies, allergens, infections, toxins, and stress, restoring our health and gaining an UltraMind—one that's highly focused, able to pay attention at will, has a strong memory, and leaves us feeling calm, confident, in control, and in good spirits.
Losing your memory? Can't focus or concentrate? Do you have brain fog or tire easily? Have you lost your zest for life or motivation? Do people tell you this is all a normal part of aging? If so, your brain may be growing old too fast, or degenerating. Modern diets, a stressful lifestyle, and environmental toxins all take their toll on the brain. This doesn't just happen to seniors-brain disorders and degeneration are on the rise for young and old alike. The good news is the brain is extremely adaptable and wants to get well. You simply have to know how to feed and care for your brain. 
Depression-Free, Naturally: 7 Weeks to Eliminating Anxiety, Despair, Fatigue, and Anger from Your Life Paperback – Illustrated, January 2, 2001
In this groundbreaking book, nutritionist Joan Mathews Larson, Ph.D., founder of Minnesota's esteemed Health Recovery Center, offers her revolutionary formulas for healing your emotions–biochemically. Through proven all-natural formulas, Seven Weeks to Emotional Healing will help you find the emotional well-being you've been missing your entire life.
Nutrition and Mental Illness: An Orthomolecular Approach to Balancing Body Chemistry Paperback – April 1, 1988
Believing that drugs and psychoanalysis were not always the best course of treatment for a variety of mental illnesses, Dr. Carl Pfeiffer began an extensive program of research into the causes and treatment of mental illness, and in 1973 opened the Brain Bio Center in Princeton, New Jersey. Here, with a team of scientists, he found that many psychological problems can be traced to biochemical imbalances in the body. With these patients, he achieved unprecedented success in treating a wide range of mental problems by adjusting diet and providing specific nutritional supplements for those conditions where deficiences exist. This book documents his approach.
The Anatomy of Violence: The Biological Roots of Crime Paperback – Illustrated, February 11, 2014
 that shows how genetics and environmental influences can conspire to create a criminal brain, and how something as seemingly innocent as a low resting heart rate can give rise to a violent personality. Bristling with ingenious experiments, surprising data, and shocking case studies, this is also a clear-eyed inquiry into the thorny ethical issues this science raises about prevention and punishment. 
The Anti-Anxiety Food Solution Paperback – Illustrated, June 2, 2011
The Antianxiety Food Solution, you'll find four unique antianxiety diets designed to help you address nutritional deficiencies that may be at the root of your anxiety and enjoy the many foods that foster increased emotional balance. This helpful guide allows you to choose the best plan for you and incorporates effective anxiety-busting foods and nutrients. You'll soon be on the path to freeing yourself from anxiety—and enjoying an improved overall mood, better sleep, fewer cravings, and optimal health—the natural way! The book also includes an easy-to-use index
Biological Treatments for Autism and PDD Paperback – October 1, 2001
Biological Treatments for Autism and PDD is an authoritative, comprehensive, and easy-to-read resource guide to a wide range of therapies that have been useful in the treatment of autism including antifungal and antibacterial therapies, gluten and casein restriction, homeopathy, vitamin therapy, gamma globulin treatment, transfer factor therapies, treatment of food allergies, and alternatives to antibiotic therapy. The information in this book may be useful not only in the field of autism but also in virtually any disorder in which some of the symptoms of autism are sometimes or frequently present.
Heal Your Pain Now: The Revolutionary Program to Reset Your Brain and Body for a Pain-Free Life Paperback – Illustrated, February 7, 2017
Dr. Joe Tatta teaches you how to regain control of your life by breaking the cycle of persistent pain. Following Dr. Tatta's program, you learn the role of the brain in pain–and how to use your brain to STOP your pain; how nutrition can eliminate the inflammation in your body, which is exacerbating your pain; and how to overcome Sedentary Syndrome and choose the best movement strategy. Dr. Tatta provides quizzes, self-assessments, meal plans, shopping lists, recipes, and exercises to support you throughout the program. If you struggle with chronic pain from an injury, autoimmune disease, or musculoskeletal pain–or are overweight and have tried everything without success–Heal Your Pain Now provides natural solutions to finally eliminate your pain and return to an active, healthy, and fulfilling life.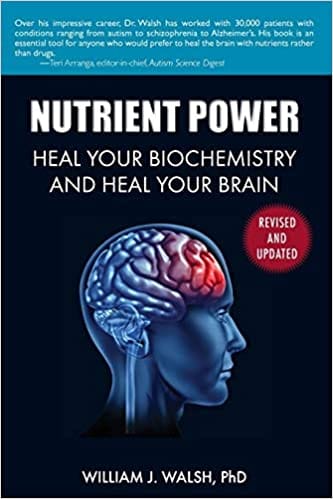 Nutrient Power: Heal Your Biochemistry and Heal Your Brain Paperback – May 6, 2014
by 
This guide will show families, patients, and doctors how to change their behavior and improve their health through new skills that will last when psychiatric drugs are no longer used.

Over the past 50 years, psychiatry has made some significantly large strides, but it needs a new direction. The current emphasis on psychiatric drugs works for now, but it is a temporary solution. Studies involving nurses, nursing, interventions and clinical work have led to a new type of treatment.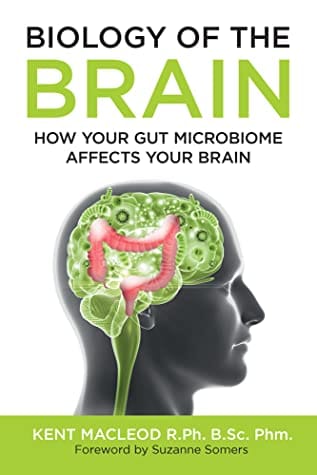 Biology of the Brain: How Your Gut Microbiome Affects Your Brain
Hardcover – February 21, 2020
by 
Think that your drugs are a sham that are just managing symptoms and never dealing with the root cause? You're not alone! Millions suffer from similar ailments and health struggles just like you, only to be prescribed more medications that can actually cause harm, and in some cases, even kill you. The medical industry has it all backward!
Chronic health conditions and mental health disorders are increasing at an alarming rate, and yet we are still trying to use the same old ineffective drugs that can have very serious side effects.
Hashimoto's Thyroiditis: Lifestyle Interventions for Finding and Treating the Root Cause Paperback – May 31, 2013
by 
What's Really Going on in Hashimoto's? Hashimoto's is more than just hypothyroidism. Most patients with Hashimoto's will present with acid reflux, nutrient deficiencies, anemia, intestinal permeability, food sensitivities, gum disorders and hypoglycemia in addition to the "typical" hypothyroid symptoms such as weight gain, cold intolerance, hair loss, fatigue and constipation. The body becomes stuck in a vicious cycle of immune system overload, adrenal insufficiency, gut dysbiosis, impaired digestion, inflammation, and thyroid hormone release abnormalities.
The Thyroid Solution: A Revolutionary Mind-Body Program for Regaining Your Emotional and Physical Health Paperback – December 26, 2007
The Thyroid Solution is a must-read for anyone who suffers from a thyroid condition. It's the first mind-body approach to identifying and curing thyroid imbalances. Written by a medical pioneer and leading authority in the field of thyroid research, this groundbreaking book offers Dr. Ridha Arem's practical program for maintaining thyroid health through diet, exercise, and stress control–and through his revolutionary medical plan, which combines two types of hormone treatments with astounding results. Inside you'll discover
Why Do I Still Have Thyroid Symptoms? when My Lab Tests Are Normal: a Revolutionary Breakthrough in Understanding Hashimoto's Disease and Hypothyroidism Illustrated Edition
Excitotoxins: The Taste That Kills Hardcover – July 1, 1994
Citing over five hundred scientific studies, Excitotoxins explores the dangers of aspartame, MSG, and other substances added to our food. This is an electrifying and important book that should be available to every American consumer.
Mold Warriors: Fighting America's Hidden Health Threat Paperback – April 1, 2005
From the forewords by Dr. Richard Lipsey and Bianca Jagger to the Epilogue, with the inside story on the cancellation of an entire season of Scotia Prince Cruises in Portland, Maine, Mold Warriors is the first book that brings together the truths that underlies the struggle of patients made ill by toxin-forming mold growing in water-damaged buildings to regain their health and their lives. Mold Warriors has 640 pages and 25 chapters of compelling writing and actual events that demonstrate the medical, legal and scientific battles of the Mold Wars.
Nutrition Counseling and Education Skill Development (MindTap Course List) 4th Edition
Develop the solid foundation in counseling and education principles you need to help clients change food behavior and improve their nutritional status with NUTRITION COUNSELING AND EDUCATION SKILL DEVELOPMENT, 4th Edition. Now in striking full color and with engaging digital resources in MindTap, this updated step-by-step guide helps you translate theoretical perspectives on nutrition counseling into real-life applications that have the power to influence client knowledge, skills and attitudes. As you move through the book, you'll have opportunities to practice new skills universal to counseling and education that you can use as a springboard to building and modifying your individual style. 
The Concussion Cookbook Food To Nourish Your Noggin
The Concussion Cookbook outlines the importance of diet for mTBI/TBI recovery, emphasizes the brain healing foods to nourish this vital organ, and outlines the foods that cause neurological inflammation. Additionally, there are over 40 EASY, BRAIN HEALTHY RECIPIES to help you get started on their journey.
Eat to Beat Depression and Anxiety: Nourish Your Way to Better Mental Health in Six Weeks – Drew Ramsey
A revolutionary prescription for healing depression and anxiety and optimizing brain health through the foods we eat, including a six-week plan to help you get started eating for better mental health.
Depression and anxiety disorders are rising, affecting more than fifty-eight million people in the United States alone. Many rely on therapy and medications to alleviate symptoms, but often this is not enough. The latest scientific advances in neuroscience and nutrition, along with our understanding of the mind-gut connection, have proven that how and what we eat greatly affects how we feel—physically, cognitively, and emotionally.
The Natural Medicine Guide to Bipolar Disorder: New Revised Edition Paperback – July 15, 2011
-Stephanie Marohn
A revolutionary prescription for healing depression and anxiety and optimizing brain health through the foods we eat, including a six-week plan to help you get started eating for better mental health.
Depression and anxiety disorders are rising, affecting more than fifty-eight million people in the United States alone. Many rely on therapy and medications to alleviate symptoms, but often this is not enough. The latest scientific advances in neuroscience and nutrition, along with our understanding of the mind-gut connection, have proven that how and what we eat greatly affects how we feel—physically, cognitively, and emotionally.
Bipolar disorder runs in Autumn Stringam's family. Autumn and her younger brother inherited the mental illness, and they and their families suffered terribly as a result. In the poignant, fascinating, and remarkable A Promise of Hope, Autumn describes their amazing recovery through their father's incredible discovery, one that has helped her, her brother, and thousands of other North Americans.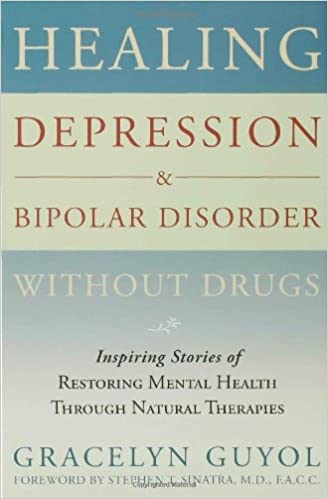 Healing Depression & Bipolar Disorder Without Drugs: Inspiring Stories of Restoring Mental Health Through Natural Therapies Paperback – August 15, 2006
Under the care of a naturopath, Guyol embarked on a quest to educate herself about the underlying genetic, hormonal, and other causes of depression and bipolar disorder. She investigated many natural therapies-including diets, vitamins, herbal treatments, and energy healing-before finding the solutions that have kept her free of depression and bipolar symptoms since 2002.
Healing Depression & Bipolar Disorder Without Drugs features Gracelyn Guyol's own story and those of thirteen other people around the country who have cured their depression and bipolar disorder using only natural therapies. In-depth research and the expertise of alternative healthcare professionals are included in this landmark guide for patients and caregivers seeking responsible, safe alternatives to psychiatric drugs.
Nutrients Quiet the Unquiet Brain–A Four Generation Bipolar Odyssey Hardcover – May 1, 2004
– 
This true medical detective story describes the author's four-generation family odyssey that leads him to paths less traveled. He discusses multiple biological triggers and effective nutritional interventions for bipolar disorder and other central nervous system (CNS) disorders. Exploring the role of infections, foods, and additives in mental illness, he challenges conventional wisdom, arguing for a closer look at various contributing factors. Examples include Lyme disease, viruses, gluten, casein, MSG, and aspartame. He examines assumptions and practices in the justice and mental health systems that impact those with CNS disorders. Too Good to be True? Describes some totally different ways for patients, parents, teachers, therapists, police, correctional officers, nurses, doctors, and judges to understand and respond to these crippling disorders.
Beyond Mental Illness: Transform the Labels Transform a Life Kindle Edition  
– 
Moyer's bipolar odyssey began with a novel exploration of factors contributing to his father and son's bipolar disorder. His first book, Too Good to be True? Nutrients Quiet the Unquiet Brain, addressed, among other things, the role of nutrients in treating mental disorders. In Beyond Mental Illness, that odyssey has now morphed into an exploration of factors contributing to mental illness as well as other physical disorders. In this book, Moyer provides a perspective beyond the standard DSM-5 diagnoses and even the very concept of mental illness.
Leaky Gut, Leaky Cells, Leaky Brain (Connect the Dots) Paperback
– Dr Jess Armine, Elizma Lambert ND 
Anyone who has been ill for a long time and has spent a lot of time and money looking for answers and chasing cures will find benefit in this book. Whether you are suffering from a chronic illness yourself, or have someone close to you who are struggling with recovery…it matters not. In reading this book, you will discover that sometimes the explanation and answers are simple. It doesn't always have to be complicated. But it's things that are typically ignored by many health care practitioners that can set the stage for success or failure in resolving your illness
Feed Your Brain Change Your Life: Take Control Of Your Brain, Body And Emotions Paperback – April 28, 2021
– Shelly Jo Spinden Wahlstrom
Desperately looking for answers to help her daughter through addiction to drugs and alcohol, Shelly Jo found tools to reduce addictions; and help children, teens, and adults beat the struggles of cravings, emotions, and weight gain. Feed your brain-brain food. What you eat matters. Get rid of negative self-talk.
Do you want these tools to significantly reduce feelings of anxiety, depression, stress, cravings, and addictions? And increase your energy, sleep, happiness, and weight loss?
While standing at my vendor table, a woman stopped, looked at my sign with a puzzled look, and stated. "Amino Acid Therapy, Nutrition, and Hypnotherapy, that's an odd combination. How do they work together?" I smiled and asked, "Are you ready to find the answer?" She stated emphatically, " Yes!"