Have you ever noticed how your mood can change after a meal?
Perhaps you've experienced a sudden burst of energy and happiness after indulging in your favorite treat, or you've felt sluggish and irritable after consuming a heavy, unhealthy meal.
These experiences highlight the connection between what we eat and how we feel. In this article, we will explore the importance of mental health nutrition and nutritional psychiatry, and how our food can impact our mood and overall well-being, as well as our ability to successfully recover from addiction.
Nutrients for Mental Health and Addiction Recovery
Mental health nutrition and nutritional psychiatry promote the fact that nutrients obtained from our diet are essential for proper brain function. Certain nutrients have been identified as particularly important for maintaining good mental health: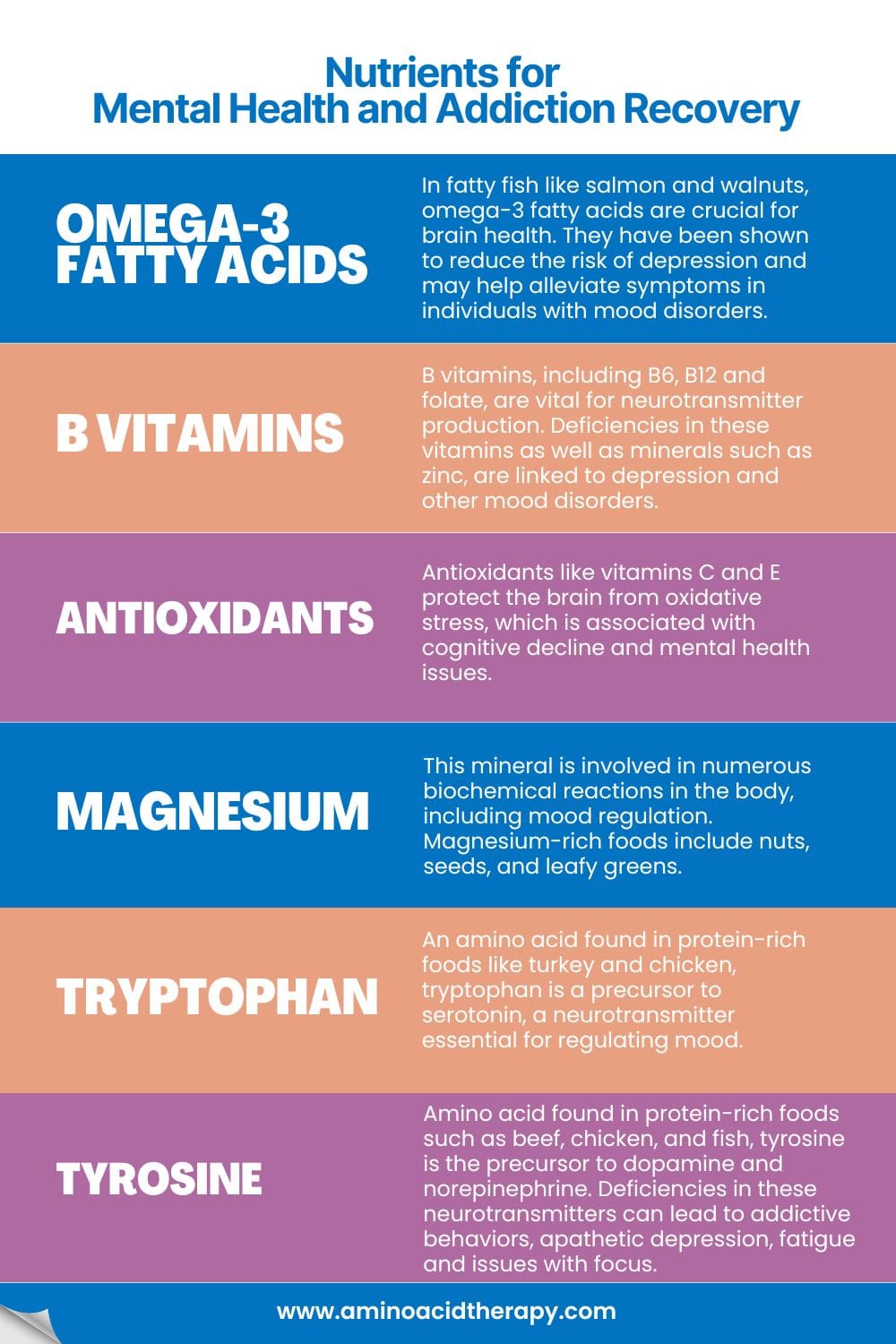 Omega-3 Fatty Acids: In fatty fish like salmon and walnuts, omega-3 fatty acids are crucial for brain health. They have been shown to reduce the risk of depression and may help alleviate symptoms in individuals with mood disorders.

B Vitamins: B vitamins, including B6, B12 and folate, are vital for neurotransmitter production. Deficiencies in these vitamins as well as minerals such as zinc, are linked to depression and other mood disorders.

Antioxidants: Antioxidants like vitamins C and E protect the brain from oxidative stress, which is associated with cognitive decline and mental health issues.

Magnesium: This mineral is involved in numerous biochemical reactions in the body, including mood regulation. Magnesium-rich foods include nuts, seeds, and leafy greens.

Tryptophan: An amino acid found in protein-rich foods like turkey and chicken, tryptophan is a precursor to serotonin, a neurotransmitter essential for regulating mood.

Tyrosine: Another amino acid found in protein-rich foods such as beef, chicken, and fish, tyrosine is the precursor to dopamine and norepinephrine. Deficiencies in these neurotransmitters can lead to addictive behaviors, apathetic depression, fatigue and issues with focus. 
The Impact of Processed Foods
In contrast to the nutrients mentioned above, diets high in processed foods, sugar, and trans fats are associated with an increased risk of depression and other mental health disorders, such as addiction. These foods are often called "junk food" due to their low nutritional value and potential to cause inflammation and oxidative stress in the brain.
Consuming a diet high in processed foods can disrupt the balance of gut bacteria, leading to dysbiosis and negatively impacting mood and mental health. Additionally, these foods can cause blood sugar spikes and crashes, contributing to mood swings and irritability, along with cravings for addictive substances such as sugar, THC or alcohol.
The Gut-Brain Connection
Nutritional psychiatry and mental health nutrition also recognizes the gut-brain connection, the communication pathway between our gut and brain. The gut houses trillions of microorganisms, collectively known as the gut microbiota, which play a significant role in digestion, nutrient absorption, and the production of various chemicals influencing our mood and behavior.
Research has demonstrated that the composition of the gut microbiota can impact our mental health. A balanced gut environment is linked to improved mood and cognitive function, while an imbalance (dysbiosis) is associated with conditions like depression and anxiety. Diet plays a pivotal role in shaping the gut microbiota, with a diet rich in fiber, probiotics, and prebiotics promoting a healthier gut environment that positively influences our mood. Research also shows that people in recovery from addictive disorders do better when their microbiota is healthy.
The Role of Nutritional Psychiatry and Mental Health Nutrition in Mental Health Treatment
Nutritional psychiatry is an emerging field with the potential to prevent and treat mental health and addictive disorders. While it is not a substitute for traditional therapies such as psychotherapy or medication, it can powerfully complement these treatments and improve overall outcomes.

Patients struggling with mood and addictive disorders can benefit from working with healthcare professionals knowledgeable about nutritional psychiatry and mental health nutrition. These professionals can offer guidance on dietary changes that may help improve emotional well-being and reduce the risk of recurrence.
The connection between food and mood highlights the impact of nutrition on our mental health. As our understanding of nutritional psychiatry and mental health nutrition grows, it becomes increasingly clear that what and when we eat can significantly influence our mood, cognitive function, and overall mental well-being.
Incorporating a diet rich in essential nutrients, by eating plenty of protein, whole grains, vegetables and fruit, while reducing the consumption of processed foods is a step towards promoting mental health. These foods provide such essential nutrients as omega-3 fatty acids, B vitamins, antioxidants, zinc, magnesium,tyrosine and tryptophan, Nutritional psychiatry and mental health nutrition is a promising approach offering hope for individuals seeking to improve their mood and overall quality of life through dietary interventions. So, the next time you sit down to eat, remember that you're not just nourishing your body but also feeding your mind.
Ways to Learn More
Are you intrigued by the profound connection between food and mood discussed in this article?
Do you want to delve deeper into the world of nutritional psychiatry and mental health nutrition to gain valuable insights into how nutrition can positively impact mental health and addiction recovery?
We invite you to take action and enroll in the Level 1 Core Training program offered by the Academy for Addiction and Mental Health Nutrition. This comprehensive training will empower you with the knowledge and skills to understand the intricate relationship between nutritional psychiatry and mental well-being.
By joining this program, you will:
Explore in-depth the science behind

nutritional psychiatry and mental health nutrition.

Learn practical strategies to incorporate mood-boosting nutrients into your daily diet.

Gain insights into the latest research and developments in

nutritional psychiatry.

Connect with experts and like-minded individuals passionate about mental health, addiction recovery and nutrition.
Don't miss this opportunity to enhance your understanding of how food influences mood and mental health, along with addiction recovery, through the lens of nutritional psychiatry and mental health nutrition. Elevate your expertise and make a meaningful impact on your well-being and the well-being of others.
Secure your spot in the Level 1 Core Training program today and embark on a journey towards a healthier mind and body with the guidance of nutritional psychiatry and mental health nutrition.
ENROLL NOW!
Together, let's unlock the potential of nutritional psychiatry and mental health nutrition and promote better mental health for all.